Essays
This document collects all the Santo Daime posts from this blog in chronological order.
This document combines three posts from this blog–We're all hard-wired for magic, You are the first line of defense against your own experience, and The problem of living with magic–in sequence with light editing for style and continuity.
Quantum Consciousness, Quantum Miracles, Quantum Failure
This essay is a critique of the pop culture version of quantum mechanics, the belief that human consciousness creates material reality by manipulating the laws of physics. This idea is common in new age movements and books like The Secret. A number of ideas in this blog originated here, including the "Law of Quantum Failure."
Reviews
Book review: The Blind Watchmaker by Richard Dawkins
Book review: The Moral Animal by Robert Wright
Book review: Magic, Science, Religion, and the Scope of Rationality by Stanley Tambiah
Book review: Gnosis and Hermeticism from Antiquity to Modern Times Ed. van den Broek and Hanegraaff
Miscellaneous
Discussion questions for The Maharishi Effect These questions are suitable for classrooms or book groups.
Press release for The Maharishi Effect
Media
An interview with Geoff on the Radio Literature program. Topics include the Wisconsin Writers Awards and the 50th anniversary of the Council for Wisconsin Writers. The discussion of Psychedelic Science begins at approximately 20:00. This program originally aired on WORT 89.9 FM and streamed at http://www.wort-fm.org.
A panel discussion with Geoff and two other participants from the UW psilocybin study, Mazdak Bradberry and Diane Pasley. Our guide Dan Muller makes an appearance during the Q&A at the end. The event was "Psychedelics: A New Understanding" on April 25, 2016, at the UW Union South.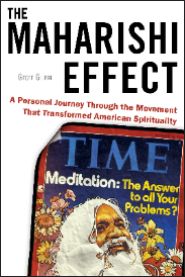 The Maharishi Effect book cover